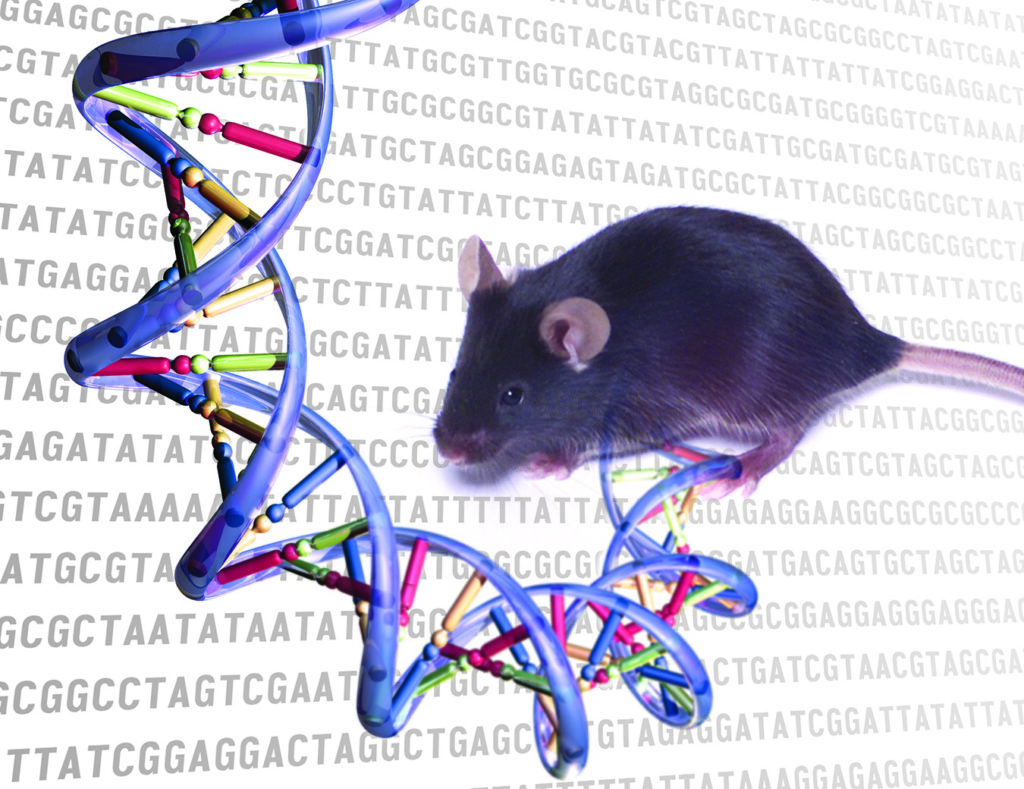 Transgenic & Gene Targeting Mouse Core Facility
The Transgenic & Gene Targeting (TG) Mouse Core Facility provides state of the art services to generate genetically modified mouse research models. The TG Mouse core uses CRISPR technology to generate knockout, knockin, and conditionally targeted alleles in mice. This method allows for the efficient and relatively inexpensive generation of mice with specific genetic mutations. Other services include conventional targeting of mouse ESCs, injection of ESCs to make germline chimeras, and production of traditional transgenic mice using random genomic insertion methods. In addition to producing novel mouse models, the TG Mouse core provides services for common mouse procedures including embryo and sperm cryopreservation, in vitro fertilization (IVF), karyotyping of ESCs, rederivation of mice from frozen embryos and derivation of primary mouse ESCs.
The TG Mouse core staff works closely with University of Utah regulatory groups and is in compliance with strict IACUC and USDA guidelines.
Hours of Operation
8:00 am to 5:00 pm
Monday – Friday
Available Services
Generation of Genetically Modified Mouse Lines
Service
Strain
Rate
Deliverables
Pronuclear Injection
C57BL/6J
$5,500
Implantation of >200
injected embryos
F1
$4,500
Implantation of >200
injected embryos
Embryo Electroporation
F1
$2,250
Implantation of >125
electroporated embryos
C57/Bl6J
$2,000
Implantation of >125
electroporated embryos
Validation of CRIPSR
reagents (per condtion)
F1
$220
>50 electroporated embryos
C57/Bl6J
$270.00
>50 electroporated embryos
CRISPR ESC Targeting
F1
$3,150
192 clones from CRISPR
edited population
C57/Bl6J
$3,700
192 clones from CRISPR
edited population
Traditional ESC Targeting
F1
$5,400
192 selected clones
C57/Bl6J
$5,950
192 selected clones
Blastocyst Injection
F1
$6,000
>2 chimeras
C57/Bl6J
$6,500
>2 chimeras
Breeding to N1 generation
N/A
$495
Outcrossing of 4 founder mice
Service fees include the purchase of donor female mice, superovulation, microinjection, microsurgery procedures, ear tissue collection for DNA isolation and animal housing up until weaning. Users will be charged cage per diems for mice that remain in the core post weaning.

These fees do not include CRISPR reagents, transgenic constructs, genotyping, and DNA sequencing. The Mutation Generation and Detection (MGD) Core provides these molecular services or users can also supply their own reagent for injection.

The total cost to generate a novel mouse model from start to the sequenced heterozygous N1 generation is $9,000-$12,000 and depends on the mouse strain and edit type.
Cryorecovery
| | | | |
| --- | --- | --- | --- |
| Service | Strain | Rate | Deliverables |
| Rederivation of frozen embryos | C57BL/6J | $880 | Minimum of 2 carriers |
| | F1 | $880 | Minimum of 2 carriers |
| IVF | F1 | $1,440 | Minimum of 2 carriers |
| | C57BL/6J | $1,650 | Minimum of 2 carriers |
| Blastocyst Injection | F1 | $6,000 | >2 chimeras |
| | C57BL/6J | $6,500 | >2 chimeras |
To recover a frozen line please email the core director to coordinate the transfer of the frozen sperm, embryos or ESCs to the core. Users are welcome to ship samples directly to the core.

Core Shipping Address:

University of Utah
Transgenic Gene-Targeting Mouse Facility
15 North 2030 East
Bldg. 533, Room 7470
Salt Lake City, UT 84112
Cyropreservation
Service
Rate
Deliverables
Sperm Cryopreservation
$625
Live preserved sperm (20 straws) and
analysis of sperm quality before and after freeze
Embryo Cryopreservation
$1250
Live frozen embryos (~30-40 embryos) and post freeze viability assessment
To initiate a sperm cryopreservation service please submit a cryopreservation request form (Resource System Login Required). Upon receiving the completed form, we will submit a request in eSirius to transfer the mice to the core for the procedure. For embryo cryopreservation requests please email the core director: mutrus@genetics.utah.edu
Transgenic Recommended Training Documents
This facility has no recommended training documentation. Please contact the facility directly for information about services and available training
Recent Acknowledgements
Garritson JD, Zhang J, Achenbach A, Ferhat M, Eich E, Stubben CJ, Martinez PL, Ibele AR, Hilgendorf KI, Boudina S. BMPER is a marker of adipose progenitors and adipocytes and a positive modulator of adipogenesis. Commun Biol. 2023;6(1):638. Epub 20230613. doi: 10.1038/s42003-023-05011-w. PubMed PMID: 37311809; PMCID: PMC10264349.
Gerstner CD, Reed M, Dahl TM, Ying G, Frederick JM, Baehr W. Arf-like Protein 2 (ARL2) Controls Microtubule Neogenesis during Early Postnatal Photoreceptor Development. Cells. 2022;12(1). Epub 20221230. doi: 10.3390/cells12010147. PubMed PMID: 36611941; PMCID: PMC9818799.
Jia S, Ratzan EM, Goodrich EJ, Abrar R, Heiland L, Tarchini B, Deans MR. The dark kinase STK32A regulates hair cell planar polarity opposite of EMX2 in the developing mouse inner ear. Elife. 2023;12. Epub 20230505. doi: 10.7554/eLife.84910. PubMed PMID: 37144879; PMCID: PMC10202454.
Jurynec MJ, Gavile CM, Honeggar M, Ma Y, Veerabhadraiah SR, Novak KA, Hoshijima K, Kazmers NH, Grunwald DJ. NOD/RIPK2 signalling pathway contributes to osteoarthritis susceptibility. Ann Rheum Dis. 2022;81(10):1465-73. Epub 20220622. doi: 10.1136/annrheumdis-2022-222497. PubMed PMID: 35732460; PMCID: PMC9474725.
Kee TR, Wehinger JL, Gonzalez PE, Nguyen E, McGill Percy KC, Khan SA, Chaput D, Wang X, Liu T, Kang DE, Woo JA. Pathological characterization of a novel mouse model expressing the PD-linked CHCHD2-T61I mutation. Hum Mol Genet. 2022;31(23):3987-4005. doi: 10.1093/hmg/ddac083. PubMed PMID: 35786718; PMCID: PMC9703812.
Tarasov M, Struckman HL, Olgar Y, Miller A, Demirtas M, Bogdanov V, Terentyeva R, Soltisz AM, Meng X, Min D, Sakuta G, Dunlap I, Duran AD, Foster MP, Davis JP, Terentyev D, Gyorke S, Veeraraghavan R, Radwanski PB. NaV1.6 dysregulation within myocardial T-tubules by D96V calmodulin enhances proarrhythmic sodium and calcium mishandling. J Clin Invest. 2023;133(7). Epub 20230403. doi: 10.1172/JCI152071. PubMed PMID: 36821382; PMCID: PMC10065082.
Wang H, Ramshekar A, Cung T, Wallace-Carrete C, Zaugg C, Nguyen J, Stoddard GJ, Hartnett ME. 7-Ketocholesterol Promotes Retinal Pigment Epithelium Senescence and Fibrosis of Choroidal Neovascularization via IQGAP1 Phosphorylation-Dependent Signaling. Int J Mol Sci. 2023;24(12). Epub 20230617. doi: 10.3390/ijms241210276. PubMed PMID: 37373423; PMCID: PMC10299509.
Zhang J, Roberts JM, Chang F, Schwakopf J, Vetter ML. Jarid2 promotes temporal progression of retinal progenitors via repression of Foxp1. Cell Rep. 2023;42(3):112237. Epub 20230314. doi: 10.1016/j.celrep.2023.112237. PubMed PMID: 36924502; PMCID: PMC10210259.
Zheng D, Mohapatra G, Kern L, He Y, Shmueli MD, Valdes-Mas R, Kolodziejczyk AA, Prochnicki T, Vasconcelos MB, Schorr L, Hertel F, Lee YS, Rufino MC, Ceddaha E, Shimshy S, Hodgetts RJ, Dori-Bachash M, Kleimeyer C, Goldenberg K, Heinemann M, Stettner N, Harmelin A, Shapiro H, Puschhof J, Chen M, Flavell RA, Latz E, Merbl Y, Abdeen SK, Elinav E. Epithelial Nlrp10 inflammasome mediates protection against intestinal autoinflammation. Nat Immunol. 2023;24(4):585-94. Epub 20230320. doi: 10.1038/s41590-023-01450-z. PubMed PMID: 36941399.
Zhou C, Uluisik R, Rowley JW, David C, Jones CL, Scharer CD, Noetzli L, Fisher MH, Kirkpatrick GD, Bark K, Boss JM, Henry CJ, Pietras EM, Di Paola J, Porter CC. Germline ETV6 mutation promotes inflammation and disrupts lymphoid development of early hematopoietic progenitors. Exp Hematol. 2022;112-113:24-34. Epub 20220706. doi: 10.1016/j.exphem.2022.06.002. PubMed PMID: 35803545; PMCID: PMC9885892.

Citing Our Facility
Acknowledgments
We would like to thank you for acknowledging the our facility. This recognition allows us to highlight the impact of your work and demonstrates the important contributions of our facility makes to research across the University of Utah. The recognition our core receives from your acknowledgments also aids in receiving grants and further funding for equipment and services we can provide to our users.
Self-Run Services / Instrumentation Usage:
In published papers that used instruments at our facility and notably involved staff members please use the following format:
Assisted Services:
In published papers where a staff member assisted you in addition to the requested services please use the following format:
Collaboration:
For publications resulting from collaborations that assisted with the methodologies, planning process and execution of your experiment in addition to equipment usage we require Co-author attribution on your publication for our facility and any staff members who provided substantial contributions to the originating project.